The preseason coverage has begun for the
Altador Cup!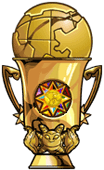 Over the coming week, new snippets will be added for each of the 18 teams detailing what they have been up to in the offseason. New NC wearables will also be made available for them as they are released. This year's theme is popcorn.
The countdown on the page reveals that signups for the Cup are scheduled to begin next
Tuesday, May 23rd
.
(Also, stay tuned to Jellyneo during this year's Cup—we'll be running a special event!)