Neopets is celebrating its 23rd birthday today!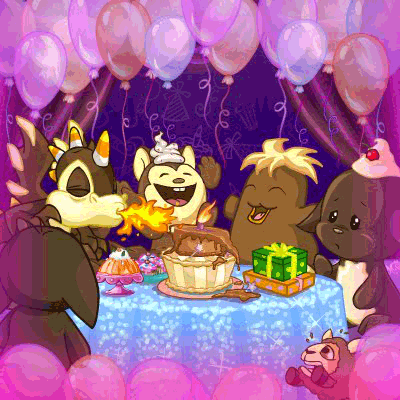 A variety of celebrations are happening throughout Neopia:


Need the "Happy Birthday!" avatar? Visit the New Features page today.
The Swashbuckling Academy is offering free training to all pets all day. If you've already enrolled for a course you haven't paid, just cancel and re-enroll to get the free course.
Treasure of the Black Pawkeet is free today and costs 150NP (half price) for the rest of November.
Neopians have increased chances of a good result at Coltzan's Shrine today.
The number of tickets for sale at the Ticket Booth is increased today.
All users have access to the Birthday Site Theme on both the classic layout and the mobile revamp. This site theme increases your chances of Random Events, and on the old site theme removes ads for non-premium members for the day. Ads are no longer removed for non-Premium members.
If you are using a Flash workaround, for the next three days you may submit 5 scores for Neopoints on Flash games instead of the usual 3 until the end of Thursday (17th). This applies to classic games only, not those on the beta site.
Visit the
Neopets homepage
(when logged in) to claim 750 NC for free. This can also be claimed on side accounts.
Over at the
NC Mall
, extra paid Pet Slots are on sale from now until November 22nd.
+1 Extra Pet Slot: on sale for 400 NC (discounted 100 NC)
+5 Extra Pet Slot: on sale for 1,800 NC (discounted 450 NC)
+10 Extra Pet Slot: on sale for 3,400 NC (discounted 850 NC)
A free goodie bag is available at the
NC Mall
, available to claim on your sides as well. Inside, you'll find a banner wearable:
Additionally, there is a limited time discount code available at the NC Mall through the goodie bag. Use 'Y24BIRTHDAY' at the checkout to get a discount of 150 NC off any total purchase over 1,000 NC. This will last until the end of November 30th.
New birthday Mystery Capsules are also released:
Outside of the NC Mall, a new Neopoint goodie bag is also now stocking at the toy shop:
Last year's Neopoint goodie bag has also now retired.
For those using the Wishing Well to ask for it, be aware this means that last year's bag no longer qualifies as a Wishing Well item, and wishing for it wastes your attempts.