You may not be able to see the item below. With Flash ending on January 12th, so do our Flash wearable previews. We are working on an HTML5 version of previews (and our Wardrobe), and pending TNT's own conversion of items to HTML5 formats, we hope to have most wearable previews up and running again by early February.
Tundra Buzz Shoes

Rarity:
85
Description:
Plenty of wiggle room for your toes!
Release Date:
January 12, 2021
Estimated Price:
No price on record,
add one
!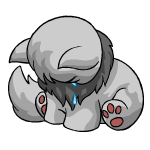 We have no previews for this item! Perhaps you can model for us?
This item is missing some model previews, and that's where you come in! We are currently missing 1 model for the Tundra Buzz Shoes. If you have this item, and a species we need it modeled on, hop on over to the Customisation page, put it on your pet, save the changes, and then come back here to input the name to let us know! We really appreciate it! :)
Buzz