★

More Neopet Colours Converted to HTML5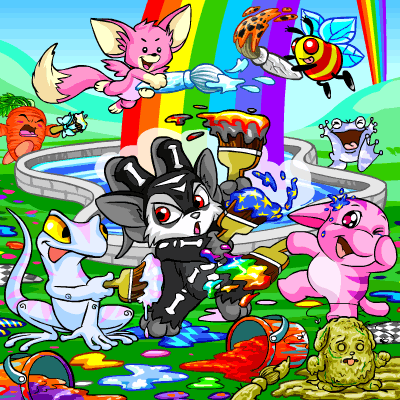 Yesterday, February 17th, TNT pushed a sizable update to convert many more Neopets colour combos to HTML5.
When we released our
HTML5 wearable Previews
section last week, we discovered in the process that some colour combos (mostly released in 2020 onward) were not yet HTML5 compatible. That meant when you painted your Neopet, say, to be a Steampunk Blumaroo, it would not have worked in the new HTML5 customisation app.
No longer! TNT pushed an update for 74 of those Flash-based Neopets, and now the following colour combos may be enjoyed in the HTML5 customisation app:
Maractite Acara
Candy Acara
Oil Paint Acara
Steampunk Aisha
Toy Aisha
Steampunk Blumaroo
Toy Blumaroo
Pastel Bori
Candy Bori
Burlap Bori
Oil Paint Chomby
Candy Cybunny
Stealthy Elephante
Relic Eyrie
Wraith Eyrie
Origami Eyrie
Woodland Gnorbu
Eventide Gnorbu
Maractite Grarrl
Toy Grarrl
Mosaic Grarrl
Maractite Grundo
Pastel Grundo
Candy Grundo
Toy Hissi
Stealthy Jubjub
Origami Kacheek
Oil Paint Kacheek
Clay Kau
Woodland Kau
Wraith Kau
Tyrannian Kiko
Burlap Kiko
Snow Korbat
Water Korbat
8-Bit Kyrii
Pastel Kyrii
Candy Kyrii
Relic Lenny
Maraquan Lutari
Origami Moehog
Candy Mynci
Chocolate Nimmo
Transparent Nimmo
Mosaic Nimmo
Ice Peophin
Oil Paint Peophin
Maractite Poogle
Stealthy Poogle
Swamp Gas Quiggle
Oil Paint Quiggle
Burlap Quiggle
Ice Ruki
Maractite Ruki
Steampunk Scorchio
Swamp Gas Shoyru
Relic Skeith
Stealthy Skeith
Candy Skeith
Eventide Techo
Steampunk Techo
Origami Techo
Water Tuskaninny
Dimensional Tuskaninny
Desert Vandagyre
Mutant Vandagyre
Maractite Wocky
Wraith Wocky
Biscuit Xweetok
Glowing Xweetok
Oil Paint Xweetok
Mosaic Yurble
Marble Zafara
Burlap Zafara
We are still waiting on HTML5 conversions for about 40 more colour combos. Hopefully we see them soon!