★

Neopets Costume Contest
UPDATE:
It appears that the customisation you enter the competition with for a given day is not saved, and it will just display whatever the current customisation for that pet is. As such, we advise not changing your pet's customisation until voting on the round you entered it for has ended. You may wish to alternate which of your pets you enter each day for this reason.
This year, Neopets is hosting their own
costume contest
! (Not to be confused with the
Costume Contest
here on Jellyneo!)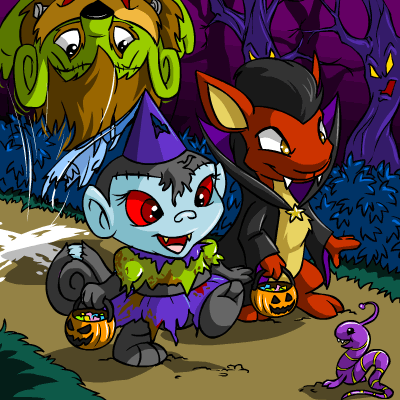 Between now and November 4th, each day will feature a new theme and you will have the opportunity to enter your Neopet dressed for that theme. Once entries close, other Neopians will vote for the best costumes.
To see the schedule of themes, visit the
Halloween Costume Competition
page and click on the button to enter. (This is merely a button to enter the theme schedule. It won't enter your Neopet.)
You must dress up your actual Neopet with clothing that you own to enter the competition, just like the weekly Customisation Spotlight. Only Neopets dressed to the daily theme will be allowed to progress to the voting.
The prize will be a trophy of some kind. It appears that there will be no item or Neopoint prizes, as TNT has stated that you may enter Neopets on your side accounts as well. (But voting from your side accounts is not allowed.)
Visit Competition »