★

MiniMME18 Is Here & Preview of MiniMME19!
MiniMME18-S1: Galactic Traveller Jacket
has gone on sale for
300 NC
. Be sure to check out our
Mysterious Morphing Experiment guide
for further information on this all previous MMEs!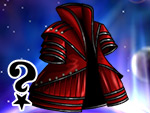 As we
reported previously
, the potential upcoming stages are set to include a wig, belt, tree/Dandan trinket and a background.
We also have a sneaky glimpse at the upcoming MiniMME19, which is likely to be released in the coming days.