★

Kaia Faerie Quests Now Live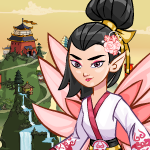 As alluded to awhile back, Kaia is now giving out Faerie Quests, likely in honor of this year's Faerie Festival. These quests, like Delina, are all Neocash based.
You have the opportunity to receive a quest from Kaia either randomly or by using a
Faerie Quest Fortune Cookie
. In addition, you
must
have a Neocash item in your inventory, or Kaia will
not
visit you. (On the flipside, if you'd like to avoid receiving quests from Kaia, keep all Neocash items out of your inventory!)
Kaia will ask for one of the Neocash items in your inventory. (You'll get to select which one you hand over.) You must place the item inside of of a
Pink Paper Bag
to complete the quest.
The prizes you'll receive are currently being collected, but they appear to be Neocash items. This quest is similar to the Upcycle Fortune Cookie in that you can use it to get rid of less desirable Neocash items.
If you received and completed a quest from Kaia, please let us know what you received in the comments!